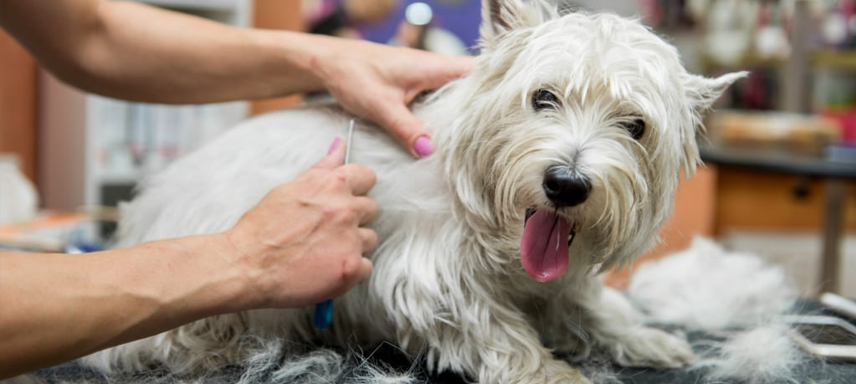 Hand Stripping
Handstripping is a manual process, where dead hair is removed. It is a procedure that should only be done by trained professionals. The pulling movement must be smooth, with appropriate techniques and materials so that the animal does not feel uncomfortable.
When dead hair is not removed, the follicles can become clogged, making it difficult for new hair to develop. Handstripping, when done regularly, helps to prevent skin problems such as follicular infections and dermatitis. Handstripping is the best way to eliminate hair, helping dogs' coats and skin to be healthier, with a brightly coloured coat.
The hair growth cycle is the same for all coat types, but in some breeds, when the hair reaches the telogen phase, the hair does not fall out naturally and needs to be plucked with the handstripping process.
Handstripping is a process that requires MAINTENANCE. In show dogs this maintenance is usually done weekly, but in pet dogs, this procedure can be done monthly, alternating betwen complete handstripping and maintenance.
What is maintenance?
It is a process in which the undercoat and some dead hairs are removed, a process done with the right equipment and correct techniques. This undercoat acts like a weed, preventing the primary hair from receiving nutrients, leaving the coat weakened and clogging the follicles.
Prices:
| | |
| --- | --- |
| X – Small under 3KG | From $110 |
| Small 3.1 – 10Kg | From $130 |
| Medium 10.1 – 20kg | From $150 |
| Large  20.1 – 30kg | From $170 |